Angela Calla on Global Morning News Today!!
I was invited to Global Morning News today to talk about the Top Myths from Homebuyers.
My hope is that this interview provides clarity on how homeownership is still attainable and empowers our youth with the knowledge on what is needed to be saved to own a home and really understand what is applicable to them, right from the source.
Lets make the conversation about "how" can I get in the market instead of "real estate is too expensive" as we sit around our classrooms, family tables, and office lunchrooms.
Please share this with someone you feel could benefit from this message.  If we can help you or someone you care about, please reach out to us directly at callateam@dominionlending.ca
Here is the link to the 5 minute interview:
https://globalnews.ca/video/6229046/top-myths-from-millennial-buyers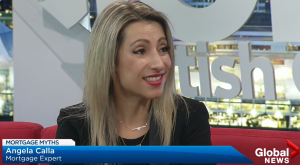 Angela Calla is a 15 year award-winning woman of influence and mortgage expert. Alongside her team, passionately assisting mortgage holders get the best mortgage, and educating them on "The Mortgage Show" on CKNW for over a decade and through her best-selling book "The Mortgage Code" available on Amazon. To purchase the book click here: The Mortgage Code. Proceeds from her book sales are donated to local charities helping families in the tri-city community.  For media interviews, speaking inquiries or personal mortgage assistance, please contact Angela at callateam@dominionlending.ca or 604-802-3983.