At a quick glance a reverse mortgage and a HELOC appear very similar. However, once you begin looking at the details they have many striking differences between them.
In short, while both can meet the immediate purpose of the loan, a reverse mortgage is designed to accommodate the individual's lifestyle well after they receive the money. Comparatively, a HELOC can cause increased financial stress over the long-term making many homeowners regret taking out the loan in the first place.
SIDE-BY-SIDE COMPARISON: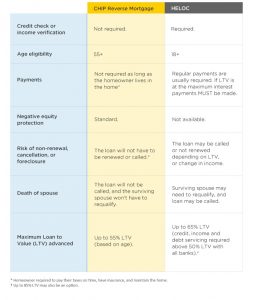 If you are 55 or older and considering a HELOC, make sure you take the opportunity to talk about the benefits of a Reverse Mortgage and the difference it can have in your life.
If you would like to learn more about Reverse Mortgage and the opportunities it can provide you, please contact The Angela Calla Mortgage Team and we will be happy to help you live a lifestyle you'll enjoy.
Angela Calla has been a licensed mortgage broker for 14 years. She has been with Dominion Lending Centres since its inception in January 2006. Residing in Port Moody, British Columbia, Angela is a regular expert guest on several news stations, television shows, radio programs and local and national publications.  She was the AMP of the year in 2009, and has consistently been one of DLC and the industry's top performers since 2006. She can be reached at callateam@dominionlending.ca  or 604-802-3983