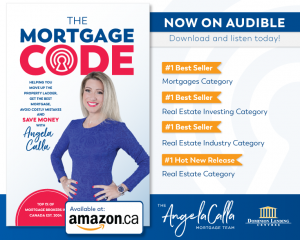 I just wanted to provide an update on a special project that's been an exciting journey for me.
Last fall, my first book The Mortgage Code became a best seller on Amazon in four categories, both in Canada and the U.S.
An audible version of The Mortgage Code is available today. It's an easy way to get all the information you need from my bestselling book.
As a mortgage professional for 15 years, I've helped bring clarity to Canadians seeking a mortgage, and The Mortgage Code will do the same.
In a fluctuating and uncertain market, it's the perfect time for a book like this to help homebuyers understand the mortgage process, save money and make the right mortgage decisions.
While being a consumer advocate has been a passion of mine since the beginning, so has giving back to the community in which I live. That's what makes The Mortgage Code such an exciting project. All proceeds from the sale of the book this year will go to the Eagle Ridge Hospital Foundation. The EHRF does amazing work raising funds for much needed equipment for Eagle Ridge Hospital in Port Moody. I'm proud to partner with such an amazing organization.
If you'd like to chat more about The Mortgage Code please feel free to contact me anytime.
In Canada, click The Mortgage Code to download today!
In the U.S., click The Mortgage Code to download today!