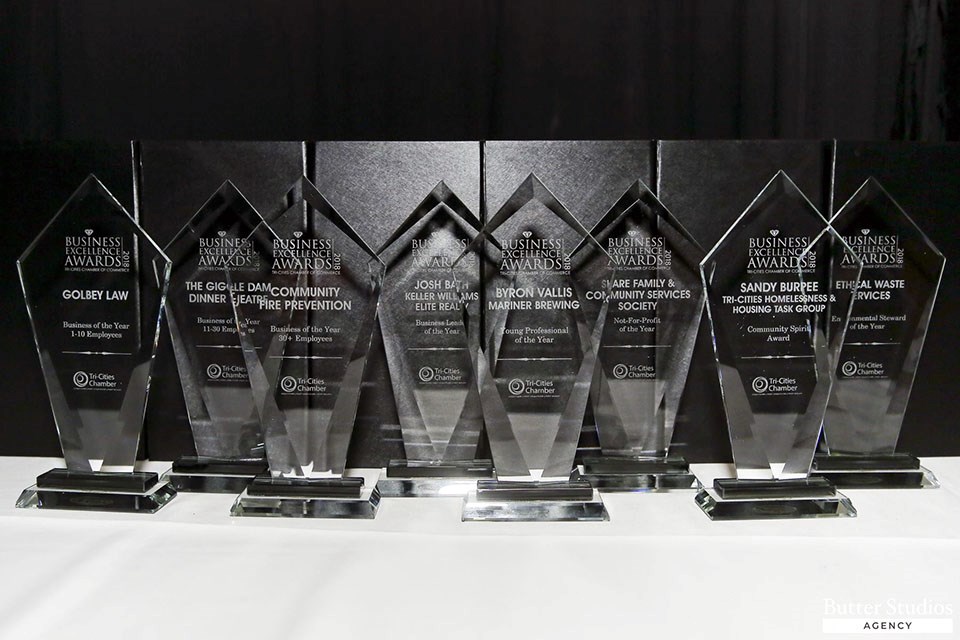 The Tri-Cities Chamber of Commerce Business Excellence Awards.Facebook/Tri-Cities Chamber of Commerce
Do you know of a business or businessperson that deserves recognition for their perseverance and dedication?
It's undoubtedly been another trying season for businesses — big, medium or small — in the region with the COVID-19 pandemic, but the Tri-Cities Chamber of Commerce (TCCC) is hoping to honour those who've persevered.
As of Tuesday (Sept. 21), the nomination period is open for the organization's 2021 Business Excellence Awards with a deadline of Oct. 8.
The award categories, along with nomination criteria and last year's winners, are listed as follows:
Business Leader of the Year
Business of the Year
Business Resiliency Award
Community Spirit Award
Not-for-Profit of the Year
Young Professional of the Year
Environmental Steward of the Year
The Tri-Cities Chamber is encouraging interested residents and entrepreneurs to submit thorough nominations so judges can better determine the finalists.
A celebration is currently planned for Jan. 29, 2022.
For more information, you're encouraged to visit the TCCC's website.
Article published by the Tricity News 
---
Angela Calla is a 17-year award-winning woman of influence which sets her apart from the rest. She is without a doubt, a true expert in her field. Alongside her team, Angela passionately assists mortgage holders in acquiring the best possible mortgage. Through her presence on "The Mortgage Show" and through her best-selling book "The Mortgage Code", Angela educates prospective home buyers by providing vital information on mortgages. 
In August of 2020, at the young age of 37, Angela surpassed $1 Billion dollars in funded personal mortgages. In light of this, her success awarded her with the 2020Business Leader of the Year Award.
Angela is a frequent go-to source for media and publishers across the country. For media interviews, speaking inquiries, or personal mortgage assistance, please contact Angela at hello@countoncalla.ca or at 604-802-3983.
Click 

 here

to view the latest news on our blog.