New record: $2,090 a month is average cost of one-bedroom rental in Vancouver
For more than a year, Vancouver has taken top spot for the most expensive city to rent in Canada and now the city of glass has broken another record.
In July, the average price of rent for a one-bedroom apartment in Vancouver hit $2,090 a month; which is the first time this type of property has cracked the $2,000 mark since Padmapper started tracking rental data. Padmapper collects rental data from 25 of Canada's biggest cities based on population.
In June the average price for renting a one-bedroom was $1,950. That's a 2.5 per cent jump in cost from June to July and year-over-year price of a one-bedroom in Vancouver has increased by 15.5 per cent.
Similarly, rent for a two-bedroom grew by 2.5 per cent in July to $3,230 a month.
While Vancouver stays poised at the top of the list, Toronto comes in second consistently with rents increasing only slightly (0.9 per cent) to $1,800 a month for a one-bedroom and $2,430 for a two-bedroom.
Affordability for both renters and homeowners continues to be a hot topic in Metro Vancouver.
In March, tenants on Vancouver's west side fought against a 35 per cent rent increase. The landlord of the building, located in the 1000-block of West 13th Avenue wants to raise the rent above this year's legally-capped limit of 3.7 per cent under a clause of the Residential Tenancy Regulation.
The province currently caps annual rent increases at 3.7 per cent, but landlords can apply for exceptions if the rent they are currently charging is significantly lower than what is being charged for similar suites nearby.
The City of Vancouver conducted a survey of 10,000 residents, which resoundingly said affordability is their top priority and the city's new housing strategy should prioritize housing based on what local residents can afford.
The survey also found that many residents believe investment pressure is a primary contributor to rising prices and that the majority of renters are concerned about their future in Vancouver — with affordability being a main reason why they might choose to leave. City staff will be reporting to council on July 25 with the results of the public consultation, housing targets in the next 10 years and actions to achieve those targets.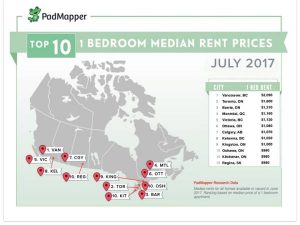 Victoria also remained in the top five even though rent fell by 5.1 per cent for one-bedroom units ($1,120/month) and slightly increased by 0.7 per cent for two-bedroom apartments ($1,410/month).
Click Here to Read the Article
Angela Calla has been a licensed mortgage broker for 13 years – since she was 22 years old. She has been with Dominion Lending Centres since its inception in January 2006. Residing in Port Moody, British Columbia, Angela is a regular expert guest on several news stations, television shows, radio programs and local and national publications. She was the AMP of the year in 2009, and has consistently been one of DLC and the industry's top performers since 2006. She can be reached at callateam@dominionlending.ca and 604-802-3983.