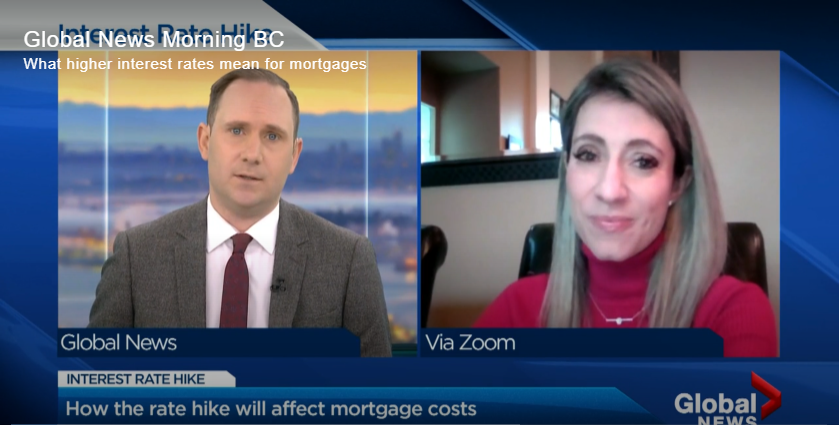 As predicted from the Bank of Canada announcement today, they have made an increase of prime rate by o.25% and the banks will follow. This means that there will be a $13 a month increase per $100k on your payments for variable-rate mortgages. If you have a $500k variable rate mortgage expect an increase of approximately $65.00/month. We were also asked to cover this announcement in a Global News interview this morning. (Note: This will not affect fixed-rate mortgage holders)
We are still near historic lows for variable rates, and we would need another four or five increases to match the current fixed rates if your discount off prime is approx. 1%.
With economic uncertainty around the world, I'm not certain rates are in a rush to rise as originally planned.
So, consider this as the signal to review your mortgage and consider your options to safeguard yourself and ensure you have an emergency fund set aside. For some, you may even consider locking in that variable rate to avoid the eventual increases, breaking your mortgage to consolidate debt or getting a better rate.
If you have any questions on reviewing your mortgage, renewal, debt consolidation, or upcoming purchase, know that we are here to help!
Many thanks,
The Angela Calla Mortgage Team
---
Angela Calla is an 18-year award-winning woman of influence which sets her apart from the rest. Alongside her team, Angela passionately assists mortgage holders in acquiring the best possible mortgage. Through her presence on "The Mortgage Show" and through her best-selling book "The Mortgage Code", Angela educates prospective home buyers by providing vital information on mortgages. 
In August of 2020, at the young age of 37, Angela surpassed $1 Billion dollars in funded personal mortgages. In light of this, her success awarded her with the 2020Business Leader of the Year Award.
Angela is a frequent go-to source for media and publishers across the country. For media interviews, speaking inquiries, or personal mortgage assistance, please contact Angela at hello@countoncalla.ca or at 604-802-3983.
Click

here

to view the latest news on our blog.