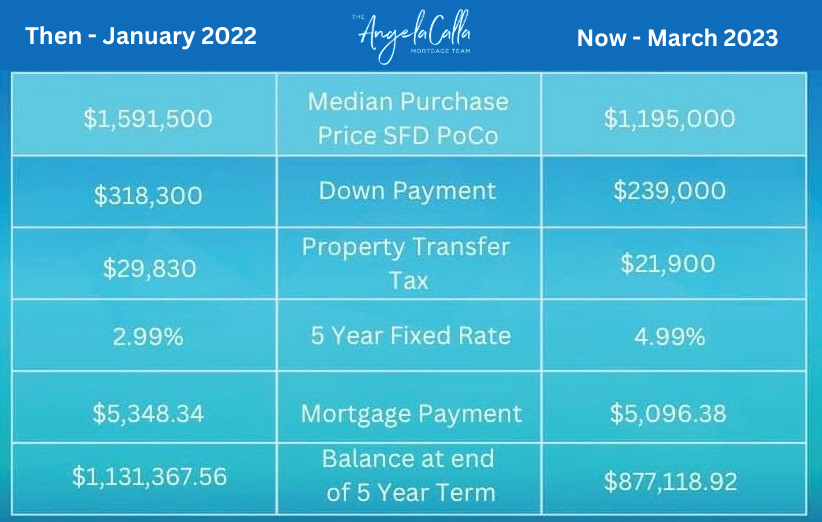 Within the last year, BC's housing market has undergone numerous changes and adjustments. The image above compares some key figures from a year ago to now. This can be crucial for one looking to buy their first home and what they can expect regarding rates, payments, and what direction the trend in the market is heading towards.
We've broken down the difference in these figures below:
Median Purchase Price: Decrease of $396,500
Down Payment: Decrease of $79,300
Property Transfer Tax: Decrease of $7930
5-Year Fixed Rate: Increase of 2%
Mortgage Payment: Decrease of $251.96
Balance at the end of the 5-Year Term: Decrease of $254,248.64
What this indicates is that while rates have increased since last year, you are ultimately paying less overall for a home and paying it off faster.
The Angela Calla Mortgage Team
---
Angela Calla is a 19-year award-winning woman of influence which sets her apart from the rest. Alongside her team, Angela passionately assists mortgage holders in acquiring the best possible mortgage. Through her presence on "The Mortgage Show" and through her best-selling book "The Mortgage Code", Angela educates prospective home buyers by providing vital information on mortgages. In light of this, her success awarded her with the 2020Business Leader of the Year Award.
Angela is a frequent go-to source for media and publishers across the country. For media interviews, speaking inquiries, or personal mortgage assistance, please contact Angela at hello@countoncalla.ca or at 604-802-3983.
Click

here

to view the latest news on our blog.