Testimonials
Read some of the comments made by our previous happy clients
I wanted to thank you and John for all of your help. I appreciated how quick John was to answer any questions I had and how transparent he was through the entire mortgage process. As a first time home buyer I also appreciated the extra information John provided me so I would have a further understanding about credit scores, rates and mortgages.
Thanks again and I look forward to working with your team in the future!
-Erin, Surrey
"You and your team have been AMAZING to deal with. We will be (in fact already have!) recommending you to our friends and family. There are no easy words to describe the relief we feel with our new mortgage – thank you!"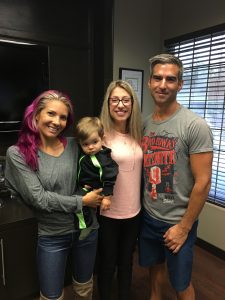 Darrin, a firefighter and Brittany, a small business owner and parents to three children save $1,300/month!
Thank you all very much for a great service from beginning to end. The level of professionalism from all of you has been refreshing.
Best regards,
Marie and Phil of Abbotsford, Retired and Self-Employed.
Referred to us by their son who we helped with his mortgage needs.
Dear Angela and your team
We just want to thank you, John and Dave for our recent mortgage renewal. They were successful in enabling us to achieve a reduced percentage rate and monthly payment. Without their professional assistance this would not have been possible. This transaction was the second time we have used your team and as before we are very appreciative. Please pass on our sincere gratitude to your exceptional team.
Sincerely Mike and Jaynie
That is great news to hear. Thank you so much David and Cassandra for everything throughout this process. I can't tell you what a relief it is to hear this. Please pass along our gratitude to John and Angela as well. As this is our first home, neither Michelle or I had any ideas what to expect or how this process worked in the beginning. We thank you guys so much for helping us along the way and answering the multitude of questions we had.
Regards,
Justin & Michelle of Calgary
" The Angela Calla team wants to save families and individuals money thus helping them in the long run.The big banks want to continually increase their profits at the expense and detriment of families and individuals. The Angela Calla team is more personal while the big banks view persons as "commodities" or simply a means to increasing already excessive profits. "
Regards,
Richard of Chilliwack
"And behalf of Veronica and my self, I would like to thank you guys very much you guys are very professional you John Angela the whole team very professional don't have words to describe how much we appreciate the help that you guys provide. "
Vicente & Veronica
Dear David, John, and Angela:
Thank you all very much for helping me with my recent mortgage/debt refinancing. Due to multiple circumstances, we have been experiencing financial issues over the past several years and found ourselves in a position of having many payments to make, both to the credit union and credit cards with their high interest rates. We were making a lot of payments but not getting anywhere.
I went to my credit union to ask for help and to consolidate everything into a mortgage, however they were less than helpful. Much to my disappointment, I was told that I did not qualify for the amount I needed, despite being a customer there for over 25+ years with a stable financial history. I was feeling extremely stressed and overwhelmed by the situation when I remembered hearing the Angela Calla team ads and radio show on CKNW.
I e-mailed your team explaining my situation and was pleased to receive a response within 24 hrs. From then on, everything went quite smoothly. I was able to secure a mortgage for the amount I needed to pay off all our debts (other mortgage, line of credit, credit cards). We will be able to save about $1600/month with this new plan! This has taken a lot of stress from me.
The best part of all this is the way all of your team members have treated me with respect. You have treated me like a valued customer, not a "loser" which was the feeling I was left with after attempting to deal with my credit union. Your promptness in getting back to me with answers to my questions is also appreciated. I won't hesitate to recommend your team to any of my friends who are shopping for a mortgage.
Sincerely,
L
Hear how The Angela Calla Mortgage Team helped Val of #NewWestminster save over $1300/month with a #mortgage restructure. This really helps after losing her husband last year and on a fixed pension income. She gets to stay in her house and enjoy a better quality of life with her grandchildren. Listen testimonial_full_val.mp3
Address
130-1465 Salisbury Avenue
Port Coquitlam, BC
V3B 6J3, Canada